Introducing "The Micah Podcast"!
Join Jin Cho, Joy Johnson, and Bret Widman — three pastors who became friends in Micah Groups — as they engage in courageous conversation inspired by current events and themes in the Micah Groups curriculum, First Things.
These three friends and co-laborers in the Kingdom address some of the most challenging issues facing pastors and ministry leaders today through their own questions, truth-telling, proclamation, and plenty of laughter. Come join the conversation!
<< Subscribe on Spotify or iTunes >>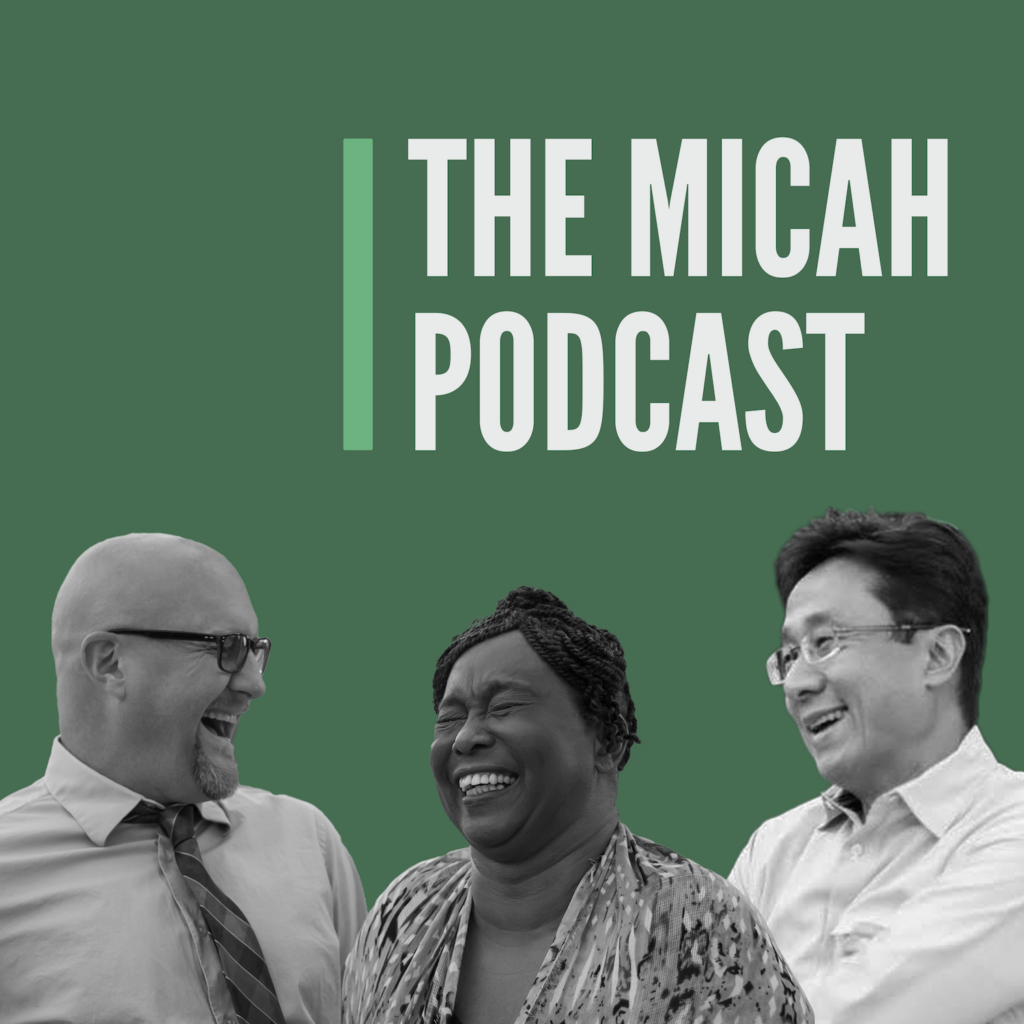 Rev. Dr. Jin Cho is an Anglican Priest, who has worked for over twenty years as a pastor and a church planter. He has a Doctor of Ministry degree from Fuller Theological Seminary, writing on the topic of race, evangelicalism, and the local church. He is a church planter and consults with churches and nonprofits on neighboring and community building in Orange County, CA. 
Rev. Dr. Joy Johnson leads in mobilizing public sentiment around social justice grounded in faith. Through her work as President of the Board for Sacramento Area Congregations Together (ACT) and member of the regional leadership team for Sacramento City Pastors Fellowship, she helps to build bridges among diverse clergy. Joy has a doctorate degree from Sacramento Theological Seminary and currently serves as pastor at Agape Alive Church in Roseville, CA.
Rev. Dr. Bret Widman is ordained in the Evangelical Covenant Church and is the Director of CRUX at North Park University in Chicago, IL, as well as the Chair of the Christian Studies Department. CRUX is an intentional, transformational living learning cohort where first year students will experience Christ formed in them and participate in the revealed and unfolding Kingdom of God. Bret has a Masters of Divinity from North Park Theological Seminary and a Doctor of Ministry from Fuller Theological Seminary.
---
Download Our Theme Music
"Oh How Good" is an original song by Delonte Gholston (also the featured singer!), recorded on the Revere|Restore album. Emanating from the Brehm New Music Initiative, Revere|Restore was written, performed, and produced by students and alumni of Fuller Theological Seminary. The creative grid for this album includes the use of primarily corporate and vertical lyrics, representation of multiple Fuller communities, themes related to spiritual formation curriculum, and wide musical stylistic diversity.
---
Behind-the-Scenes Videos
Look for Behind-the-Scenes videos on the Brehm Preaching YouTube channel, like these:
---
---
The Micah Podcast is a program of Brehm Preaching—A Lloyd John Ogilvie Initiative
Produced by Jennifer Ackerman
Administered by Ruth Schmidt
Graphic Design by May Kytonen
Theme music by Delonte Gholston, used by permission of Jubal House Publications